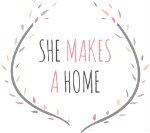 The lady who writes one of the blogs I read - Ashley at
She Makes a Home
- decided to put together a six-week course to help people who want to unleash their inner creativity. Here is what she says in her
Breakthrough Boot Camp welcome post
:
Welcome to Breakthrough Boot Camp! I am ready to take you on a journey through your own mind, straight to your own abilities and potential. This e-course is dedicated to anyone who is creative, who works full-time from home (or wants to), who is also trying to raise children, keep up a house, and have a stellar online shop. Sounds like a tall order! Well, it is, but piece by piece, we're going to make this happen in six weeks
While I am not trying to do ALL of those things she mentioned, I am trying to work on my creativity and I felt like this was a good place to do it. I really enjoyed the first week of the classes and can't for the next five weeks! It's not something I'm doing on my blog, I'm just working on the worksheets in the privacy of my own relaxing quiet time. The blog post for each day is pretty short and the worksheets usually don't take too much time either. I find that it's the perfect way to transition from some busy work into some more creative work or some writing.
If any of you would like to join me, just click that link to the
welcome post
and scroll down until you see the links to each day of the course. Remember you don't have to do the posts every day if you don't have time for that. Just take them a post at a time at your own pace. As Ashley said in one comment, "By all means, please take the course at a pace that works for you - I certainly wouldn't want anyone to get MORE stressed because of it! :)." I hope some of you will decide to do the Breakthrough Boot Camp, too, and learn a bit more about yourself, how you work best, and how to get your creative juices flowing! Here's to strengthening our own potential and rejuvenating our creativity!